Home
> Study Abroad Alumni
Study Abroad Alumni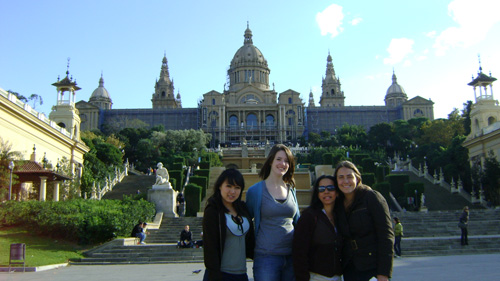 Study Abroad Peer Advisor Program
- Dear all Study Abroad Alumni, please
click here
to read your special invitation to join the MSU Study Abroad Peer Advisor Program!
For more information about this program, please click
here
.
Social Opportunities
Study Abroad Peer Advisor (SAPA) Program
The Study Abroad Peer Advisor program is intended to increase awareness and enthusiasm about study abroad by creating opportunities for the exchange of information between past study abroad students and prospective study abroad students. SAPA's will serve as resources via email, phone, one on one, and at events, as mentor for those interested in studying abroad. SAPA's may share their rich experiences with the MSU community in order to inspire future SA students and the MSU community. For more information about this program and to apply as a peer advisor, please click
here
.
Global Living Community (GLC)
Are you interested in continuing your international and intercultural experiences? Live in the Global Living Community with others with a shared interest.
The GLC is a residential community of International and American students at Montclair State University. The mission of the GLC is to support the internationalization of the campus by providing a living and learning community of American and international students. International Services provides an array of programs for residents of the GLC including discussion groups, excursions to cultural sites, social events and other educational and cultural activities. GLC programs promote increased global awareness and intercultural respect and understanding. Living in the GLC offers students and international scholars a unique opportunity to make friends from around the world who share an interest in broadening their cultural perspectives. Spaces in the GLC are limited and first priority is given to visiting and exchange international students and returning residents. The GLC is truly a global living and learning community. Check out our
Facebook group
International Student Organization
The International Student Organization of Montclair State University promotes global understanding and unity. The ISO is the spearhead organization in Montclair State's quest for international diversity, the organization provides assistance, company, and guidance to Montclair State's large international student body. Having said that, ISO also includes amongst its top priorities interaction with American students and welcomes them with open arms. ISO encourages cooperation and a sense of unity amongst the international students and the American students here at Montclair State. Members of ISO have an opportunity to learn about the different people they share this planet with and learn some of their customs and traditions as well as share some of their own.
After Graduation

The Peace Corps
The Peace Corps traces its roots and mission to 1960, when then Senator John F. Kennedy challenged students at the University of Michigan to serve their country in the cause of peace by living and working in developing countries. From that inspiration grew an agency of the federal government devoted to world peace and friendship.
Fulbright U.S. Student Program
Allows for individually designed study/research or an English Teaching Assistantship. Provides support for study/research/teaching in a single country. Facilitates cultural exchange & promotes mutual understanding.
The online application for the 2011-12 U.S. Student Fulbright Competition is available here:
U.S. FULBRIGHT ONLINE APPLICATION
Montclair State University Deadline:
Tuesday, September 21, 2010 at 4:00 PM
Cultural Ambassadors Program - Spain
The program provides Spanish students and teachers of English or French an opportunity to broaden and increase their knowledge of the English or French language and North American culture through interaction with native speakers.
The Assistants will also have the opportunity to learn about the Spanish language and culture and use their experience upon their return to the United States or Canada, thus developing cultural understanding between the citizens of Spain and the United States of America and Canada.
The Spanish Autonomous Regions will assign all candidates, individually, an elementary or secondary school. Candidates may not choose a particular city. The Ministry and some of the Regional Education Authorities will organize orientation seminars at the beginning of the school year.
Download the Program's brochure
CIEE Teach Abroad
CIEE offers paid teaching positions in six countries (Chile, China, Dominican Republic, South Korea, Spain, and Thailand) for university graduates looking to teach English abroad and immerse themselves in a foreign community.
International Careers
Goinglobal
Going Global provides country-specific career and employment information, including world-wide internship and job postings, H1B employer listings, corporate profiles, and career resources for 30 countries. Updated daily, this annual subscription service is available on an unlimited access basis.
International Careers Consortium - Resources
Provides resources for identifying ways of increasing international career development opportunities for both domestic and international students.