Announcements : 1st Montclair State Student Receives Prestigious U.S. Department of State Critical Language Scholars
Announcement: 1st Montclair State Student Receives Prestigious U.S. Department of State Critical Language Scholars
1st Montclair State Student Receives Prestigious U.S. Department of State Critical Language Scholarship
Savannah Martinez awarded scholarship to study in Bangladesh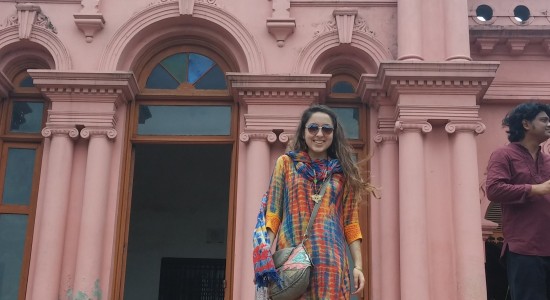 Savannah Martinez, in front of a Bengali palace that was built during the 1800s called Ahsan Manjil while participating in a CLS program in Bangladesh.
Savannah Martinez, a junior sociology major at Montclair State University was selected as a recipient of the Critical Language Scholarship (CLS) to study abroad in Bangladesh during the summer of 2015. Martinez is one of about 550 students from the U.S. to receive this highly competitive and prestigious award and the first Montclair State University student since its inception in 2006.
The Critical Language Scholarship (CLS) Program is a fully-funded overseas language and cultural immersion program for American undergraduate and graduate students. With the goal of broadening the base of Americans studying and mastering critical languages and building relationships between the people of the United States and other countries, CLS provides study opportunities to a diverse range of students from across the United States at every level of language learning.
CLS students receive a minimum of 20 hours per week of classroom instruction and participate in extensive community engagement activities. In 2006, its inaugural year, the CLS Program offered intensive overseas study in the critical need foreign languages of Arabic, Bangla, Hindi, Punjabi, Turkish and Urdu.
Most languages offered by the CLS Program do not require applicants to have any experience studying critical languages. The CLS Program seeks participants with diverse interests, and from a wide range of fields of study and career paths, with the purpose of representing the full diversity of professional, regional, cultural and academic backgrounds in the United States.
Ms. Martinez is passionate about international relations and cultural exchange and hopes to work as a Foreign Service Officer, an international student recruiter/advisor, or for a non-governmental organization after she graduates. She hopes this experience will be the first step in becoming fluent in Bangla, so she can effectively understand and communicate the needs of the Bangladeshi people.
The CLS Program is part of a U.S. government effort to expand dramatically the number of Americans studying and mastering critical foreign languages. Students of diverse disciplines and majors are encouraged to apply. Participants are expected to continue their language study beyond the scholarship period, and later apply their critical language skills in their future professional careers.
For more information about the Critical Language Scholarship and other international scholarship opportunities, please contact Nyieta Charlot, Study Abroad Coordinator at charlotn@mail.montclair.edu.